Veterinary Visits
 The Parrot Zoo offers a unique course in psittacine handling and first aid for veterinary surgeons or students who need that little more hands-on experience.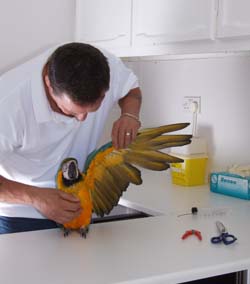 Being a veterinary surgeon is probably one of the most exciting and satisfying jobs around and although you no doubt have the medical knowledge required, you will also understand that this is just a part of being a vet. Should you have an interest in the world of parrots (psittacines) and acknowledge that they are a large part of the pet world now, there is no doubt you will increasingly see them in your surgery. It is easy to then see why this course can be of massive benefit for you.
It is a very down to earth basic handling and first aid course in a relaxed environment with the added advantage of having a pool of the UK's largest collection of Psittacines and a teacher in Mr Steve Nichols; he has probably handled more parrots than anyone else in the country in his 30+ years study of this fascinating creature.
We have our own hospital where you can witness and participate in any of the procedures that will be on-going (and there's always something), from micro chipping to beak shaping, wound treatment to gavage feeding; depending on which course you are studying at the time.
There are more than just parrots though. So while experiencing the psittacines, you will also get the chance to be up close and personal to the largest collection of Bengal Tigers in the UK; as well as Lemurs, Meerkats, Giant Tortoises, Reptiles, Tapir & our Puma… just to name a few!
If this is of interest to you, please email a member of our team using the Contact Us page and we shall direct you to the correct department.