Future Developments

Lincolnshire Wildlife Park offers sanctuary to any animal or bird in need, whether that be retirement from show-business like our Puma, over-crowding or closure of other sanctuaries or zoo environments or unexpected births; we pride ourselves on rarely refusing them. This sometimes means that we have to build temporary enclosures or move some of our current residents; either way we endeavour to make all of our animals as comfortable as possible, offering the most natural environment and diet available to us.
We also know how important it is to you, as our visitors, to have something exciting to look forward to when planning your day out. We have many regular visitors who come to keep in touch with their Parrots, as well as those who live nearby and just love to come and see what's changed. Season Tickets are available so that people can stay on-top of our ever-changing park.
The latest development plans include:
Nigel's Sensory Enclosure
As many of you may already know, we have a beautiful Puma at the park named Nigel. He came to us with an irreversible eye condition, which will eventually render him completely blind. We knew this from the beginning and decided to offer him a sanctuary within our park, to live out the remainder of his life. It was only recently, during a routine check up, that we realised his condition had worsened quicker than we thought. Many other park's may have turned to euthanasia at this point, but that was never going to be an option for us. Therefore Steve, the park's CEO, began designing his enclosure to adapt to his very individual needs. We have been fund raising for Nigel, so that we can start this as soon as possible, as it is of the utmost importance that it is completed before his sight goes completely.
More recently we have had to make the difficult decision to take him off-show, until his new sensory enclosure can be completed. After a couple of near misses next to the pool in A.H.E, it was no longer safe for him to be in there. His new enclosure will offer a safe environment with sensory cues and veterinary access, to allow him to live a fulfilling and comfortable lifestyle with us. He is still at the park, comfortable and being very well looked after by his keeper, and he will be back on show once the charity are able to continue the work on his enclosure.
You can find out the development plans and help us by donating toward the construction of this special enclosure by following the link below to our JustGiving page:
www.justgiving.com/campaigns/charity/parrotzoo/helpnigel
White Lions
In November 2019 we were lucky enough to be able to offer sanctuary to two male White Lions named Pascha & Uganda. These gentle giants have been re-homed to our park for retirement, and are currently settling into our Animal Holding Enclosure while plans start on their custom built enclosure. The enclosure will be fit for Kings, with different textures, enrichment and indoor housing for safe feeding, cleaning and medical treatment if ever needed.
You can view these incredible creatures at A.H.E now!
Parrot Enclosures
We are The National Parrot Sanctuary, the roots that grew to be Lincolnshire Wildlife Park. We house over 1000 Parrots and Parakeets of over 100 different species. Therefore, as you can imagine, updates are ongoing for these amazing birds; to ensure they are receiving the best possible diet, perching and indoor housing we can offer. We have already made some important updates to our African Grey, Amazon Parrot, Small Bird, Budgerigar and Quaker enclosures, but we won't stop there… updates are being made to all enclosures across the park. You may see some new aviaries or updated aviaries on your next visit, plus don't forget that you can feed the birds too!
The Peaceful Plot
We have been lucky enough to recently have secured funding for The Peaceful Plot to begin and be completed! With help from Calor & The Gusto Community Fund, this special area will be a very important community area within the park.
Situated within the Nature Reserve, this space will not only have indigenous species, but some exotics such as small birds and Tortoises roaming freely. Our visitors can enter the area to be at peace with nature, find calmness and escape the ordinary. The Peaceful Plot has been designed especially for those with mental health problems, depression, the elderly and Alzheimers sufferers, since becoming a dementia and age friendly business. The importance for a quiet space away from the usual 4 walls is of even greater importance, as we all navigated our way through lockdowns.
This project is set to be completed in 2022, to allow groups and our visitors to enjoy a much needed escape from everyday life. Look out for the many features within it or volunteering opportunities to help our charity maintain the space!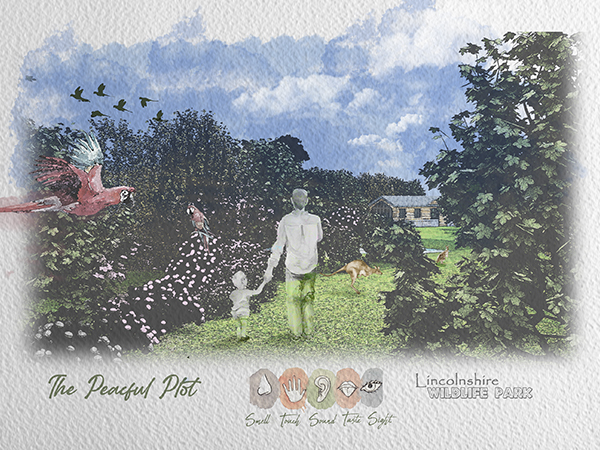 For the latest events taking place at the park, check out our 'Events' page and get involved!