The National Turtle Sanctuary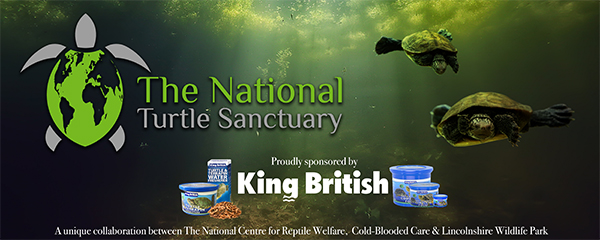 Introducing…
The National Turtle Sanctuary is a unique concept and carefully collaborated sanctuary to meet the needs of abandoned turtles around the UK. Turtles became extremely popular pets in the UK thanks to the release of the Teenage Mutant Ninja Turtles franchise in the early 90s. Particularly popular at this time were Red-Eared Sliders. These turtles, along with Yellow-Bellied Sliders and  Cumberland Sliders, have recently made the news again as they are now classed as an invasive species in the UK.
Many turtles, particularly the three sliders mentioned above, grow into large adults so need a lot of space. Turtles are very cute when small, so without prior research, it's only when they begin to reach maturity that owners begin to realise what a huge responsibility they've taken on.
Turtles can be difficult to re-home, and sadly many owners have released them into local rivers and canals. Many will have perished due to the climate, but others have adapted and thrived, leading to a great deal of environmental damage, hence the subsequent illegal status for Red-Eared Sliders, Yellow-Bellied Sliders and  Cumberland Sliders.
And so The National Turtle Sanctuary is Born…
Through careful collaboration, and the help of organisations and the public alike, the National Turtle Sanctuary aims to begin providing a forever home for all abandoned turtles. The sanctuary will include a number of purpose-built turtle pods, which have been designed by experts in herpetology to provide the turtles with the conditions they need to live healthy, happy lives.
In keeping with Lincolnshire Wildlife Park's ethos of working with local companies where possible, we have drafted in Cold-Blooded Care and Lincolnshire Pond Plants, who have provided not only decorative flora but also specially chosen pond plants to ensure water quality in the most natural and eco-friendly way.
Each pod will house up to 12 turtles in need of a forever home and, with more pods in the pipeline in the near future, the sanctuary aims to house upwards of 1,000 varying species of turtles and terrapins.
We need your help to build a turtle pod!
Huge thanks go to King British who donated 20p per sale of Turtle & Terrapin food, throughout February and March, to help raise funds for our very first pod!
Find out more about how King British are helping the charity by clicking here to go to their website!
If you know of a nursery or garden centre that may want to be involved in helping donate amazing plant-life for our pods, then please let them know about us!
A message from Andy Ferguson, Herpetologist at Lincolnshire Wildlife Park:
"We've had a long term connection with the team down at the National Centre for Reptile Welfare in Tonbridge, and since the centre opened, a very large problem for both the centre and our natural habitats was quickly identified – turtles! With such a vast space available to us here, we have the capabilities to provide more than enough space and land for terrapins to be housed, and as we are a sanctuary they will be here to enjoy the remainder of their lives."
"We would like to express our most sincere thanks to King British for being pivotal in the formation of our first of its kind National Turtle Sanctuary. Their sponsorship is invaluable to the project, not only in providing the charity with funds that will enable us to construct stage one of the rehoming centre, but ensuring its success with ongoing support."
If you have a turtle or terrapin that you can no longer provide care or space for, or have found a wild terrapin or turtle, please get in touch with us so that we can help! You can email turtle@lincswildlife.com and we will get back to you with further information as soon as possible.