International Day of the Tiger
Welcome to the home of our International Day of the Tiger event!
On this page you will find all the information you need for a trip to Lincolnshire Wildlife Park on this iconic event, including ticket information, acts and entertainment, planned performance schedules and general park information. You can also click on any of the links to take you to our acts pages or book stalls for our market and get your exclusive discounts when on offer!
2018's event alone has raised over £5,000 for Tigers of the world and this continues to be one of our largest and most exciting events of the year… with the exception of Santa Claus of course!
International Day of the Tiger is on Sunday 28th July for 2019
EVENT DETAILS:
Doors open at 10am and last entry is 4pm
The event will be on Sunday 28th July 2019 only
The activities and entertainment are subject to availability and weather conditions, please see the entertainments schedule for full details of times and dates of each act (available soon).
This event is suitable for all ages and is fully disabled friendly
Entrance prices can be found on our Ticket Prices page
To book a Stall for your business please email: sophie@lincswildlife.com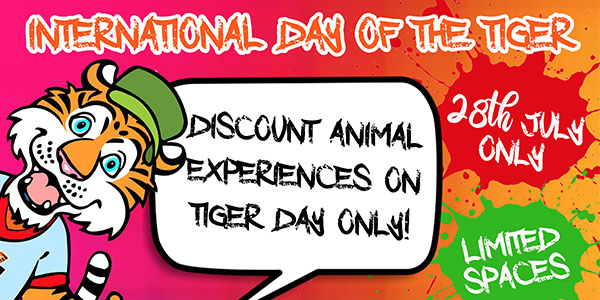 For one day only… we are offering HUGE discounts on our animal experiences… plus experiences you haven't seen before!
Tiger Tours – usually £50, now only £30 each or £50 for two
Lemur Feeding – usually £55, now only £15 per person
Meerkat Feeding – usually £55, now only £15 per person
Tapir Feeding – usually £55, now only £15 per person
Reindeer Feeding – just £15 per person
Terms & Conditions:
Tiger Tours, Lemur, Meerkat & Tapir experiences are suitable for ages 5+ only. Reindeer experiences are suitable for 10+ only. Lemur, Reindeer and Meerkat experiences are not suitable for wheelchair access. Prices are per person. Tigers tours last 20 mins & includes a tour of Bengal Gardens to meet some of the Tigers & a talk from the keeper. All other experiences are 15 mins and include entry to the enclosure with animal treats & talk from the keeper. Entry to the park is not included in the discounted prices. Experiences are non-refundable and not exchangeable for cash.
Tortoise Shell Wash – just £2.50 per child or £3.00 with tortoise treats
Reptile Photos – £2.50
Terms & Conditions:
All Prices are per person. Availability is limited and on a first come, first served basis. All Discounts and bookings only valid for 28.07.19. Please note that these are mini experiences which do not include a photo, certificate or entry to the park. You are welcome to take your own photos. Park entry will be charged at reception on arrival. Experiences are not private and may involve other members of the public who book the same allocated time slot. Please call a member of the team if you are unsure of any details.
OUR ACTS: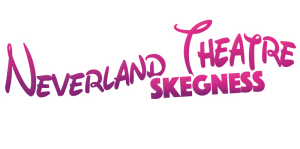 The Neverland Theatre is a Nationwide arts and entertainments theatre group, performing premium plays and theatre productions to some of the largest venues across the country. Based in our home town of Skegness, with its beautifully decorated theatre and amazing acts such as Peter Pan'tomime', Beauty & the Beast, Alice in Wonderland, Bloody Mary and comedians Steve Hewlett & Troy Hawke. Visit their website by clicking on the logo!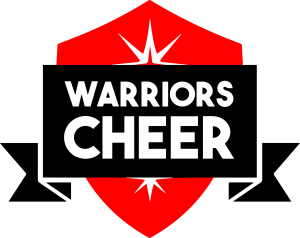 Warriors Cheer & Dance are a local organisation, based just 5 miles away from the park in the adjacent town of Wainfleet. They are a dedicated team for children of all ages and abilities and have supported us with their stunning cheer routines for many events. We are proud to invite them back in 2019 to showcase their new routines and amazing skills. If you have a keen young cheerleader or dancer in the making, click their logo to visit their Facebook page!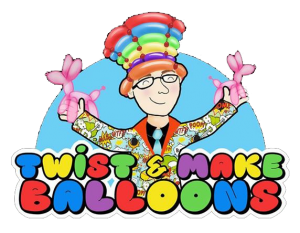 Twist & Make Balloon Modelling came to the park last year to showcase their talent… and what a talent! Both adults and children alike were blown away with the creations, including Tigers, Motorbikes, Parrots, Monkeys, Unicorns and almost anything else that was asked for! All profit from the sale of these wonderful balloons were given to back the Parrot Zoo Trust charity to help fund our aviary developments and Tigers. They are back this year to wow us again, so don't miss out on this wonderful and unique entertainment. Click the logo to view some of these wonderful creations!
For the past two years we have invited The Wonder Circus to our International Day of the Tiger. They are such a huge and popular circus in Skegness and do a great amount of charity work themselves. Although this year they are a little too busy with the Circus to be able to attend, they have two magical unicorns that will be coming along to meet the children! They are only here until 1.30pm so don't miss out on viewing these beautiful creatures, stroking them and maybe even a ride on them! Just click on the logo to the left if you would like to learn more about the circus on their Facebook page.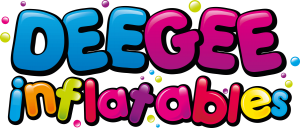 What would a family event be without face painting & bouncy castles?! We have a lovely lady who comes to the park to do face art & glitter for the children, with all proceeds going to our charity for her wonderful service. Available all day from 10am and with a variety of designs and colours to choose from, don't miss out on making your weekend that extra bit grrrrrreat! The amazing people at DeeGee Inflatables are also bringing along their huge pirate ship adventure slide for the kids to let off some steam! Let them sail the seven seas over by our snack shack, while you enjoy a refreshment!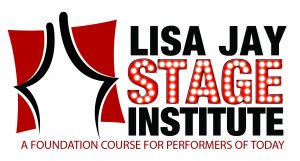 A new act this year for our International Day of the Tiger is Lisa Jay Stage Institute. Based in Skegness, this performance institute is home to over 200 dancers of all ages and abilities, performing dance, theatre, singing and drama. The school thrives because of it's flexibility for families of all backgrounds and encourages children to be confident, well-disciplined and enthusiastic young learners. Click the logo to for more information about joining their team!

The amazing entertainment team at Butlin's Skegness are joining us to teach the children who visit, how to do some circus skills! They will be bringing stilts and circus equipment for the children to have a go on, as well as information about how you could book a holiday or day out at the Butlin's resorts! If you'd like information about the facilities and prices at Butlin's, then just click on their logo!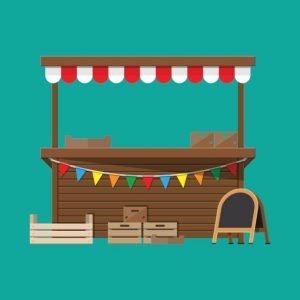 Roaring Market! We have over 20 different stalls to enjoy as part of your day, from cupcakes to delicious cheeses, textiles to building your own bear! There is something for everyone to enjoy and some amazing gifts that you could be taking home for your friends and family. We have popular businesses such as The Body Shop, Avon, Chuckling Cheese Co, Sprinkles Cakes and Bakes, W.A.F electrical, Caribbean Cuisine & Build Your Buddy… just to name a few!
You won't be disappointed as you stroll around our Nature Reserve, enjoying the buzz of the market, as well as the live entertainment, refreshments and music. Come and meet our staff at the Booking Office to see what experiences are on offer, hold a reptile or if you need some information on about the park… we're here to help!