Tiger Experience
One of the world's most endangered predators awaits you!
Lincolnshire Wildlife Park houses the first ever Bengal Tiger Cubs in Lincolnshire, now nearly 3 years old, and part of the largest collection of Tigers in the UK…Now you have the chance to personally meet them!
A state-of-the-art enclosure with Tiger Temple, Ivanvale lake and an amazing indoor housing environment, Bengal Gardens really is a truly wonderful sanctuary for our 11… yes 11 Tigers! Bengal Gardens is one of the largest enclosures of its kind, with amazing viewing windows and a 200ft indoor housing environment!
Have a breath-takingly close look into the life of the worlds largest big cat as you enter their enclosure to meet and feed them. Ask our experienced Tiger keepers your questions, have an exclusive photo taken for that lasting memory and take it all home in your Photo presentation pack to tell all your friends and family about your experience!
What's Involved?
Entry to Lincolnshire Wildlife Park
30 minutes behind the scenes tour & talk from the keeper
Hand-feeding some of these amazing Bengal Tigers
An exclusive photo in our presentation folder to take home
A certificate memory of your close encounter

This experience must be booked in advance and is subject to availability, you must be 16 or over to have the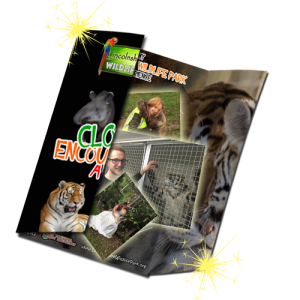 experience with a maximum of 4 visitors per experience. Experiences cannot be booked for Bank Holiday Monday's. If you would like more information or to book, please contact our friendly staff on:
0871 384 1130