Events
Our events page gives you the details of everything that is up and coming at Lincolnshire Wildlife Park, so you can always be one of the first to know and book any tickets in advance! 
All of the events we hold are put in place to raise awareness and funds for all the animals at our park. All proceeds always get put back into development, upgrading of enclosures and care for our animals and birds. Holding the UK's largest collection of Parrots & Tigers, we are quickly becoming one of the most popular attractions in Lincolnshire; recently winning the East Lindsey & Skegness Business Awards Visitor Attraction of the Year & a highly recommended attraction on TripAdvisor!…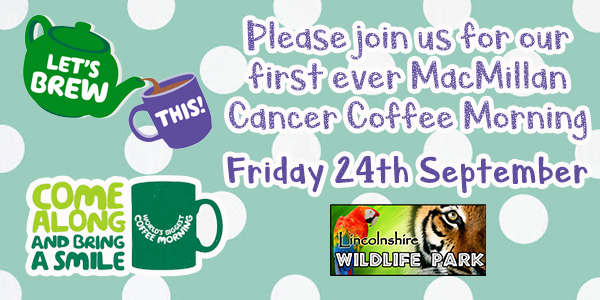 MacMillan Coffee Morning!
Please join us on Friday 24th September for our first ever coffee morning, raising funds and supporting MacMillan Cancer Support. We will have an array of home-baked or donated treats available to our visitors from 11am – 2pm, in exchange for donations to MacMillan Cancer Support, a very worthy charity… "At Macmillan, we won't rest, and we won't settle for anything other than the best possible support for people with cancer. We do whatever it takes."
T's & C's:
Standard entry admission prices charged. Annual passes accepted. No dogs except assistance dogs. All visitors under the age of 16 must be accompanied by an adult at all times. All proceeds from the coffee morning will be given to MacMillan Cancer Support (Charity No:261017). If you have any known allergies, then please ask for advice before consuming any products at the park. Available on Friday 24th September 2021 only, between 11am – 2pm, subject to time changes depending on availability of products.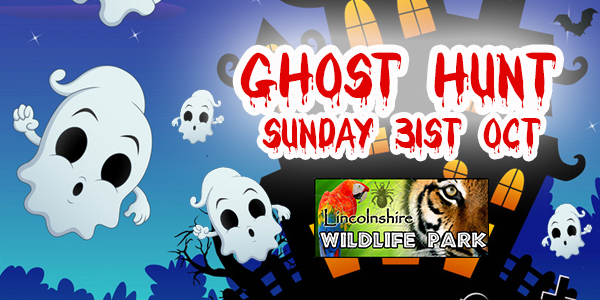 Halloween at the Park!
Join us on Sunday 31st October from 10am for a spookily good walk around the park! With Ghost & Ghouls to find and treats to be won, you're in for a fun family day out. For just a £1.00 donation to the charity, you can join in the trail to find the ghosts, and win a prize at the end if you find them all. Plus, there will be children's activities and competitions to join in and win some great prizes, such as a best dressed competition, colouring competition and activities at the Wild4Learning hub.
T's & C's:
Standard entry admissions apply, please book online HERE. Trail suitable for all ages, children under the age of 16 must be accompanied by an adult at all times. No dogs except assistance dogs. Annual passes accepted. Each trail is £1.00 to join, payable on arrival at reception and non-refundable. Please bring your own pen or pencil to minimise contact. Entry can be any time between 10am – 4pm and the park closes at 5pm. The Rainforest Diner will stop serving hot food at 3pm.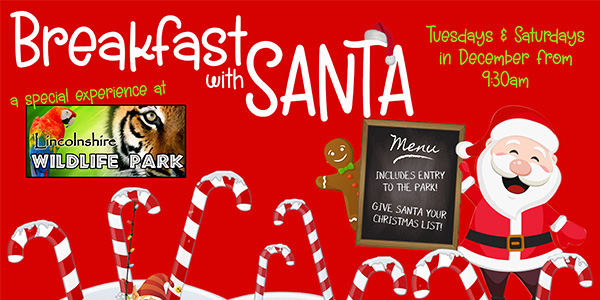 Breakfast with Santa!
Tuesday & Saturday mornings in December! Full details coming soon!
Your chance to Win an Animal Experience every month!
When you sign up to our mailing list, you are automatically entered into our monthly prize draw to win an animal experience with our Tigers, Lemurs, Tortoises or Tapir! Plus you will be one of the first to know about any up-and-coming events, and claim special discounts when booking! If you would like to help our charity and become a part of our special subscription then just click on the image above to be taken to our registry form, fill it out & you'll receive your welcome email… Good Luck! Experience Terms & Conditions and age restrictions apply, to find out more about experiences please click here.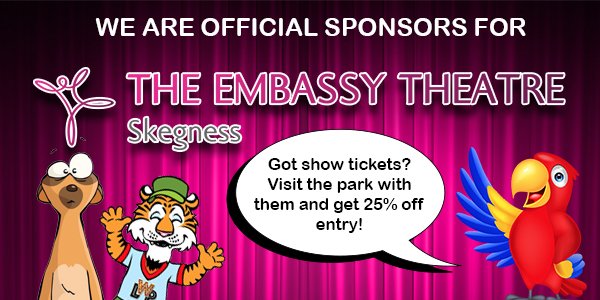 Terms & Conditions:
Discount can be applied to all theatre tickets, whether used or not, upon presentation at reception. Photos, screen shots or photocopies of tickets will not be accepted. Ticket redemption must be strictly used within the redemption period stated on the tickets. If you haven't got tickets but would like to see a show at the Theatre then please CLICK HERE to go to the Embassy Theatre website!
Check back for future events in 2020!