Events
Our events page gives you the details of everything that is up and coming at Lincolnshire Wildlife Park, so you can always be one of the first to know and book any tickets in advance! 
All of the events we hold are put in place to raise awareness and funds for all the animals at our park. All proceeds always get put back into development, upgrading of enclosures and care for our animals and birds. Holding the UK's largest collection of Parrots & Tigers, we are quickly becoming one of the most popular attractions in Lincolnshire; recently winning the East Lindsey & Skegness Business Awards Visitor Attraction of the Year & a highly recommended attraction on TripAdvisor!…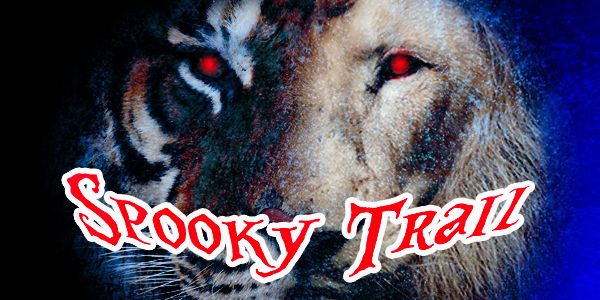 The Spooky Trail is back!…
Join us this Halloween on Saturday 31st October or Sunday 1st November for a spooktacular walk around the park. Our spooky trail will lead you through all sorts of peril to find the clues on your mysterious map. Will you piece the clues together to win a treat… or will it be a trick for you instead? Visit us to find out! Suitable for all ages and just a £1.00 donation per trail to our charity to join in. Book tickets online by clicking here & then collect and pay for your trail sheet at reception on arrival. We are open 7 days a week from 10am, last entry is 4pm and the park closes at 5pm.
We politely ask that all customers adhere to our COVID-19 safety measures already in place and adhere to social distancing at all times. You can find details of these by visiting our COVID-19 public advice webpage. If you could also try to remember your own pen or pencil then that would help us to protect you further. We will also ask for Test & Trace information from the lead person in your party, either through online bookings, GiftAid information or by filling out our test & trace slips on arrival. Thank you and we hope to see you soon.
Your chance to Win an Animal Experience every month!
When you sign up to our mailing list, you are automatically entered into our monthly prize draw to win an animal experience with our Tigers, Lemurs, Tortoises or Tapir! Plus you will be one of the first to know about any up-and-coming events, and claim special discounts when booking! If you would like to help our charity and become a part of our special subscription then just click on the image above to be taken to our registry form, fill it out & you'll receive your welcome email… Good Luck! Experience Terms & Conditions and age restrictions apply, to find out more about experiences please click here.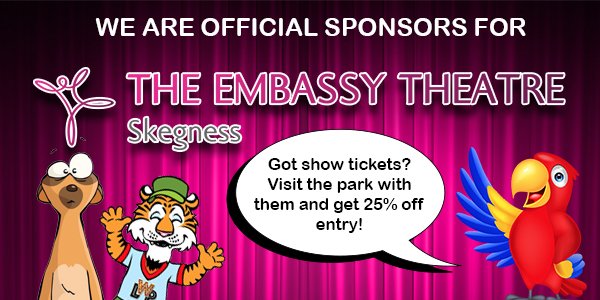 Terms & Conditions:
Discount can be applied to all theatre tickets, whether used or not, upon presentation at reception. Photos, screen shots or photocopies of tickets will not be accepted. Ticket redemption must be strictly used within the redemption period stated on the tickets. If you haven't got tickets but would like to see a show at the Theatre then please CLICK HERE to go to the Embassy Theatre website!
Check back for future events in 2020!